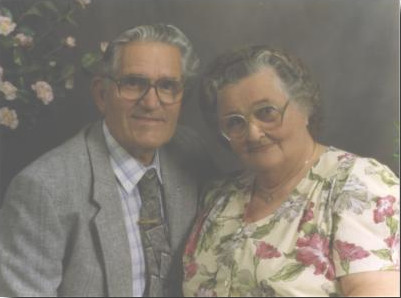 Sally and Frank Terry on their 45th Wedding Anniversary.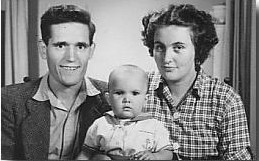 I guess this one was somewhat earlier. Don't know what that is between them, its too big to be a baby.
This would be where it all began officially.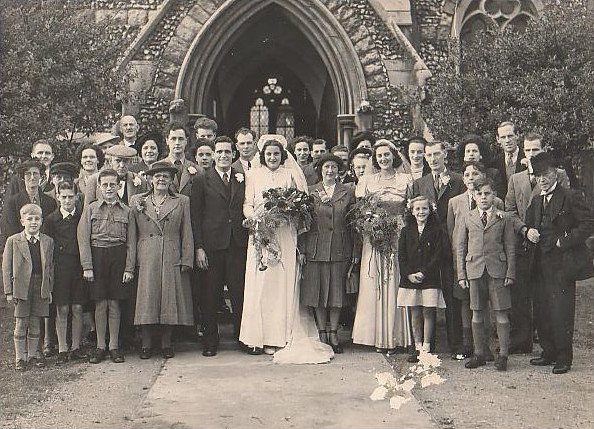 Of course, unofficially it probably all started at Hampton Court by the river.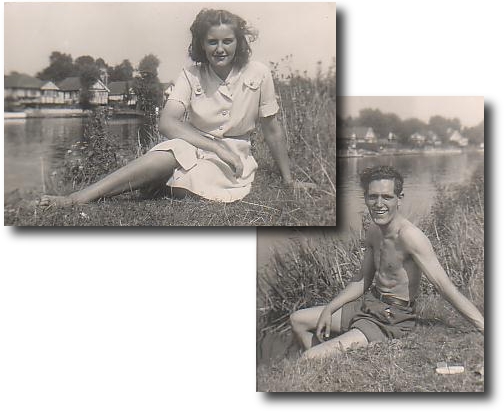 Now I can see the attraction to Mum here, what a beauty, but Mum, what were you thinking! Look at the scrawny little runt. And those aren't shorts, those are a pair of long trousers sufficiently baggy that you can roll the cuffs all the way up to the thigh!
So I asked my Mum and Dad to write down all the stories they used to tell us kids and the story of their lives. They made a valiant start. Here's my Mum's story and here's my Dad's.
I'll keep bugging them to give me more and update their pages. Meanwhile, here's some questions to prompt them.
Why, if my Mum's name is Leah Alexandra, is she called by everyone "Sally." Now we know father's explanation is the song "Sally in the Alley" and we've heard all about the alley up the side of Nan and Pops house where the "courting" used to take place but that would imply a widely known reputation which is not my Mum at all!
Who was that boy who hit the other one on the head with a brick.
Grandad's shotgun license.
If he was a poacher why did the local police call him out to deal with dog and animal problems (with or without his shotgun).
He worked with mules in the army? He had something to do with the PostOffice shooting in Ireland that started the IRA? He worked on the construction of Sanderstead golf course?
Martha's stories of jumping on the back of buses at the end of Napier Road with the conductor trying to hit them with the money belts.
Visit to Mabel and Jimmy in Scotland.
Visits to Len and Maisy and Tanya in Leeds. (The long lost older brother ;-)
The attic flat with Diane and Carol.
Early days in New Addington.
Martha and George, Hilda and Eddie all in the same road view from our front window. When did Martha and George move from the top of Headley to Dunley Drive. When did Hilda and Eddie move to Worthing?
Stella, Dickie, Mum, Jessie and Ron in King Henry's Drive? When, from where, why?
CAMCO with all the Terry's working there?
Stealing a Yank's sidearm on the South Downs.
Lighting machine gun bullets from downed fighter on the Downs.